Testimonial:
- Johnson Matthey - Macedonia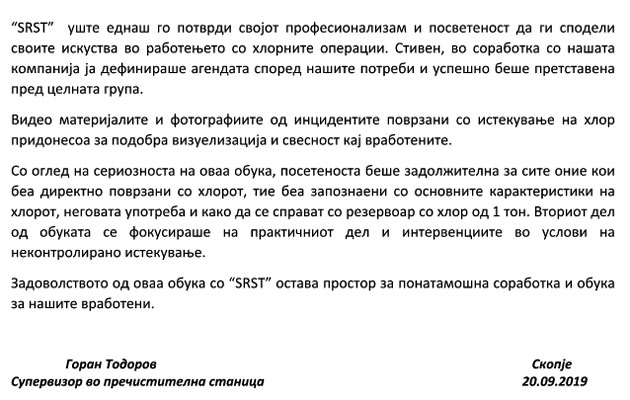 TRANSLATION:

SRST reaffirmed its professionalism and dedication to sharing its chlorine operations experiences. Steven in cooperation with our company defined the agenda according to our needs and it was successfully presented to the target group.
Video materials and photos of incidents related to chlorine leakage have contributed for better visualization and awareness among the employees.
Given the seriousness of this training, attendance was mandatory for all those directly related to chlorine, they were introduced to the basic characteristics of chlorine, its use and how to handle 1 tone chlorine drum. The second part of the training focused on the practical part and interventions in conditions of uncontrolled leakage.
Satisfaction with this training with SRST leaves room for further collaboration and training for our employees.
Goran Todorov,
Wastewater Treatment Supervisor, Johnson Matthey Catalysts, Skopje, Macedonia.
Skopje, 20th Sept 2019
---