Testimonial:
- Johnson Matthey - Macedonia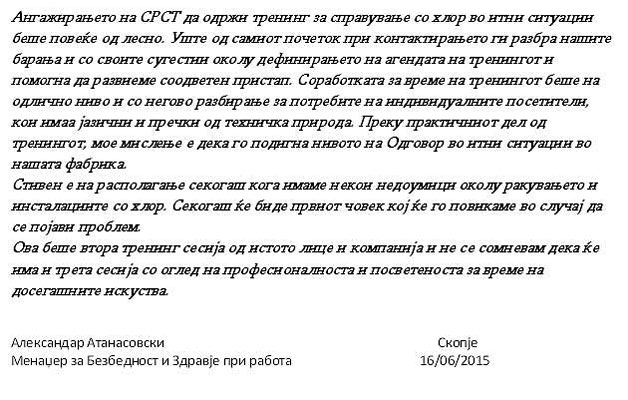 TRANSLATION:

Organisation with SRST to deliver the Chlorine Emergency Response training was straight-forward. From the beginning, during consultation, our requirements were excellently understood. Our discussion and joint-ideas helped clearly define the training agenda, and ensure a good systematic approach.
Co-operation during the training was on respectable level and any lingual and technical obstacles were minimised for the understanding of the audience.
The practical part of the training, in my opinion, raised our preparedness level of a Chlorine emergency to a high level.
Stephen was, and still is, always available should we have problems and doubts with our installation and handling with chlorine. He will be always the first person we call should any issues arise.
This was our second SRST Limited training session, and I have no doubt that there will be a third, considering the level of the professionalism and dedication we have received from the past two experiences.
Aleksandar Atanasovski,
Health and Safety Manager, Johnson Matthey Catalysts, Skopje, Macedonia.
Skopje, 16th June 2015
---